Hursley village school life documented in log books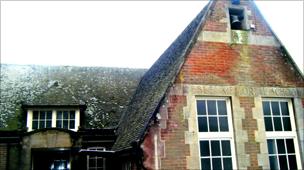 The everyday stories of a Hampshire village school have been unearthed in log books kept by former head teachers.
Retired teacher Linda Hewett spent a year trawling through logs from John Keble Primary School in Hursley, near Winchester, to compile a new book.
The complete set of log books contains weekly updates of school happenings written by head teachers from 1863.
Mrs Hewett said: "It shows the changing attitudes to children and learning."
She discovered the books by chance while visiting the school, and began researching the background to the historical events mentioned in the entries.
'Harrowing and horrifying'
"What is interesting is the difference in times and things that wouldn't happen now," she said, pointing to a 1865 entry when a pupil was described as having "lamentable ignorance".
The records show how illnesses like diphtheria, measles and tuberculosis were still a real threat. Mrs Hewett said: "Childhood death was taken for granted. It's harrowing and horrifying."
Two world wars also left their mark on school life. The logs document children losing parents in battle, and how the school had an influx of pupils evacuated from Southampton during World War II.
Being a country school brought its own playground issues. In 1865 an entry records: "There was a great noise owing to two boys having mice", while in 1921 a 13-year-old boy was punished for "cruelty to a goat".
As education provision developed in the 20th Century, the books record the introduction of school dinners in 1944, complete with a shed for the washing up and a pig swill bucket for the leftovers.
There are also the quirky moments reflected, such as in 1955 when the head teacher recorded in a matter-of-fact way: "Five-year-old Eileen poked a crayon up her nose this morning. I sent her to hospital. It was removed there. Child returned to school."
For Mrs Hewett, who attended the school in the 1950s, writing the book was a chance to relive childhood memories, shared by many former pupils who still live in the village.
The walls of a former school building still has marks where children sharpened their slate pencils in the years before paper and exercise books.
"It was great fun and a carefree time. It's history right here - it's the footprints of the past," said Mrs Hewett.
A Crayon up her Nose by Linda Hewett is available from John Keble Primary School, Hursley.
Related Internet Links
The BBC is not responsible for the content of external sites.