Tory MP James Arbuthnot to step down for 'new challenge'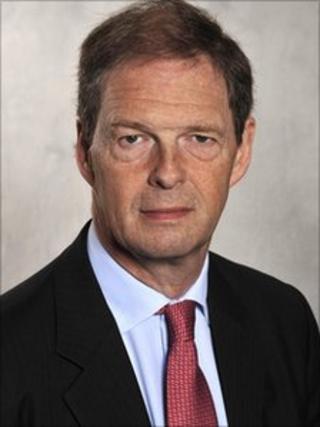 Long-serving Conservative MP James Arbuthnot has said he will stand down from Parliament at the next election.
Mr Arbuthnot, 58, said the decision was to "take on new challenges".
The Eton-educated barrister has represented North East Hampshire since 1997 and previously was MP for Wanstead and Woodford from 1987 to 1997.
He is currently the Defence Select Committee chairman and before that was a minister for social security and defence in John Major's government.
Mr Arbuthnot is the first MP from last year's general election to announce plans to leave Parliament.
He had a majority of 18,597 at the last election.
'Rewarding role'
In a statement released by his office, Mr Arbuthnot said: "It has been a great privilege to have represented North East Hampshire for the last 14 years, and before that Wanstead and Woodford for 10.
"My constituents have been generous and supportive and have taught me much.
"Their friendship has meant a great deal to Emma and me, and we shall always be grateful to them.
"After a fulfilling career, first as a barrister and then in Parliament, it is now right to move on at a time when I can still take on new challenges."
Mr Arbuthnot described his chairmanship of the Defence Select Committee as an "especially rewarding role", which comes to an end at the end of this Parliament.
The next general election is scheduled for 2015.