Divers bid to sink Portsmouth-based Ark Royal off Devon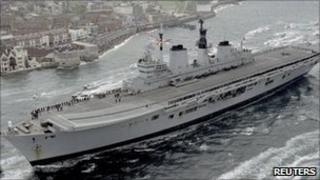 A Devon-based diver is bidding to sink the former Royal Navy flagship Ark Royal off the south coast and turn it into a diving wreck.
James Dodrell is leading a bid for the Portsmouth-based aircraft carrier so it can be "laid to rest" off Torbay.
Mr Dodrell admitted the plan hinged on obtaining permission from the Crown Estate.
He estimated the scheme would cost in the region of £3m to 5m.
The vessel, decommissioned in March after 25 years service, was put up for sale on the MoD auction website.
Bidders were given tours of the vessel in Portsmouth Naval Base at the start of May.
Mr Dodrell told the BBC: "Instead of cutting her up for scrap, she would become home to hundreds of marine animals.
"We have approached the Crown and the answer is still pending."
'Bidding war'
Mr Dodrell said the hundreds of doors on the vessel would have to be removed for safety reasons. The work needed, including towing it to Torbay and sinking it could cost in the region of £1m.
He guessed the vessel would be sold for between £2m and £4m and, if his bid was successful, the money would be raised through charitable donations.
He said: "Its a bidding war and it's not just the man with the most money, it's the man who has the right idea."
Mr Dodrell pointed to the success of the former HMS Scylla, a Royal Navy frigate which was sunk off Cornwall in 2004. The site is home to about 250 species and can accommodate up to 300 divers a day.
Defence chiefs are reportedly backing a plan to use the Ark Royal as a floating commercial helipad in London.
Other proposals include turning it into a school, a nightclub or a base for security personnel during the Olympics.
But it could also be sold for scrap like its sister ship, Invincible.
Bidders have until 1000 BST on 13 June to submit their tenders.