Southampton refuse collectors extend strike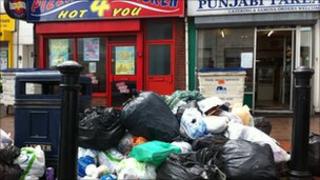 Refuse collectors from Southampton have extended their week-long strike, over a proposed 4.5% pay-cut, to a fortnight.
The second wave of walk-outs by 112 council workers, had originally been planned to run for seven days but will now run for two consecutive weeks.
The city's Tory group has distributed leaflets reading: "Don't let Labour drag us back to the dark days when they let rubbish pile up the streets".
The Unite union has accused the Conservative group of a "smear".
Refuse workers, who began their action at midnight, are striking against the decision of the Conservative leader of the council, Royston Smith, to impose new, inferior contracts on the city's 4,300 council employees. The workforce has until 11 July to accept the reduced terms, or face the sack.
Loss of revenue
Ian Woodland, Unite regional officer, said: "We are now in week three of this city-wide action and yet Royston Smith and his team seem either clueless as to how or unconcerned about solving this dispute."
Mr Woodland urged Mr Smith to return from his holiday and "sit down with the workers and their unions".
Loss of revenue to the city as a result of the dispute is also expected to be significant. At least £100,000 was lost when parking wardens took action in late May.
Leaflets were stuck on residents' bins by the city council's Conservative group during the first wave of strikes.
The leaflets read: "Your bin is not being collected because a small minority (only 11%) of the unionised workforce supported by Labour are trying to score political points."
Unite said the purpose of the leaflets was to "poison" the people of Southampton against a solution being negotiated between the workers and the city council.
The union has written to the Chief Constable of Hampshire Police, requesting an investigation into the origins of the leaflets, as they "make no mention of who had written or produced the leaflets".
Failure to clearly establish both authorship and production credentials are infringements of election law, as set out in the Representation of the People Act 1983.
But the deputy leader of the Conservative-run council Jeremy Moulton told the BBC: "We were responsible for the leaflets - they've got our party logo on them."
Anthony Kolker, chairman of Southampton Itchen Conservative Association, said: "It is important that residents understand that Labour and the union bosses are driving these strikes and making it clear that they want to see further escalation of strike action."
A Hampshire Police spokeswoman said they had not yet received the letter from Unite on the matter.
In February, councillors finalised budget cuts of £25m and said all workers earning more than £17,500, which is 65% of staff, would have their pay cut by reducing working hours.
The city council said the alternative to pay cuts was to lose another 400 staff on top of 285.