Parents warn over Hampshire Sure Start cuts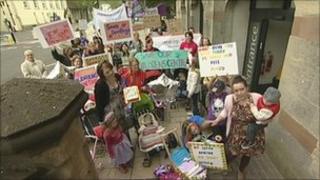 Parents in Hampshire have warned councillors they are making a "huge mistake" by cutting funding for the county's children's centres.
A select committee voted nine to seven in support of a decision to cut £6m from the Sure Start centres' budget.
Campaign group Save Our Sure Start said it was "dismayed" that the last chance to change the plans had failed.
Committee chairman Stephen Reid said the Tory-led council's priority was "to maintain continuity of service".
'Party lines'
Under the plans, all 81 centres will remain open but will not have individual managers.
Catherine Ovenden, a member of the Save Our Sure Start (SOCC) campaign group, said: "Once again, the councillors seem to have voted along party lines.
"I really hope they realise the impact that their decision could have on young lives across Hampshire.
"I fear that they are making a huge mistake."
Lib Dem members of the children's and young people's select committee had called in the decision, which was considered at the meeting on Tuesday.
The committee could have forced the authority to review the decision.
Of the 16 committee members present at the meeting, nine were Conservative, six Liberal Democrat and one was a representative for the Community Campaign for Hart.
Sure Start centres offer services to young families, including helping parents find work, childcare and support.
The council has agreed to create 15 management "hubs" that will be responsible for the centres.
The original plan proposed eight "hubs", but after protests councillors almost doubled the figure in a bid to help maintain local links.
The county council intends to save about £20m from children's services as a whole.