Coastguard emergency calls down after cables stolen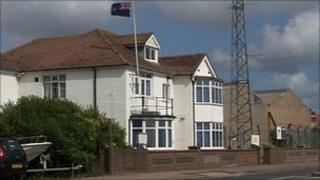 Coastguard communications were knocked out after thieves stole underground cable, cutting out aerial signals and putting lives at risk.
About 250 metres of carbon fibre cable were taken from the Southampton area during the early hours of Wednesday.
Communication was "severely reduced" at Lee-on-Solent station, which was backed up by teams in Dover who listened out for Mayday calls.
BT has since replaced the cabling and urged witnesses to come forward.
Volunteers were drafted in by HM Coastguard during the early hours to sit in stone buildings along the coast with a bank of radios listening for calls.
Tony Wheeler, Solent Coastguard watch manager, said: "If the incident had gone on for much longer the situation could have deteriorated quite quickly.
"The worst case scenario would be not being aware of something going on and a loss of life could occur".
'Attack on network'
The theft knocked out communications from St Boniface Down, on the Isle of Wight, to Newhaven, East Sussex.
There was a reduced capability on the Needles aerial site.
Katherine Piggin, watch officer at the Maritime Rescue Co-ordination Centre, said: "We lost our communications to seafarers, we were just grateful it wasn't at a busy time."
More than 100 homes were also left without internet connection and phone lines.
A BT spokeswoman described it as "an attack on the network" and said an investigation had started.