Isle of Wight Council's bid to stop heart unit closure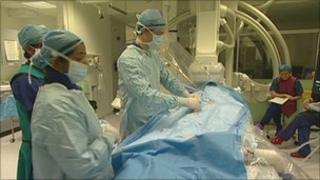 The Isle of Wight council is fighting plans to close the childrens' heart surgery unit in Southampton.
The council said the island was overlooked when it came to measuring travelling times to other units because it shares its postcode with Portsmouth.
The crossing from Cowes to Southampton is 18km and a journey to another hospital would take too long, it said.
Councillor Dawn Cousins said: "We don't feel the times and complexity of it were taken fully into account."
The NHS is currently consulting on options to merge heart units into fewer, larger centres. Only one option would see surgery continue at Southampton.
If it closed, patients on the Isle of Wight would have to travel longer than the maximum three hours to a specialist unit which the review recommends.
'Postcode lottery'
Ms Cousins said: "We have this situation of the postcode lottery where we have a postcode which intimates us to be associated with Portsmouth.
"This is one situation that we felt we should highlight. Retrieving children who are very sick across the water is very important, we're very fortunate to have Southampton General serving us.
"Full council along with the Isle of Wight NHS PCT are supporting the option to keep Southampton open."
Plans to close Ocean Ward at the Southampton General Hospital have been met with strong opposition from hundreds of people.
There are about 30 child heart surgeons across England who carry out 3,600 operations each year.
Southampton has been rated as the best outside London and carried out more than 330 operations in the last year.
The four options are to keep units open at either:
Newcastle, Liverpool, Leicester, Birmingham, Bristol plus two in London
Newcastle, Liverpool, Birmingham, Bristol, Southampton plus two in London
Newcastle, Liverpool, Birmingham, Bristol plus two in London
Leeds, Liverpool, Bristol, Birmingham plus two in London
A public consultation runs until 1 July with a final decision due in the autumn.