Southampton council and unions in pay cut strike talks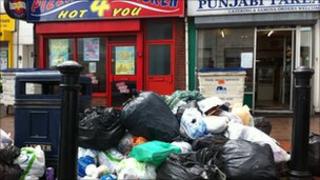 Southampton council has offered to clear its diary next week to continue talks with unions to end strike action.
If progress was made, the council said it would be prepared to withdraw dismissal notices given to staff if they do not accept reduced terms.
Both parties met in the middle of the fourth week of strike action, which has seen refuse collectors, street cleaners and toll bridge employees walk out.
The council said a planned pay cut would save 400 jobs.
Discussions between the parties are being held with conciliation service Acas.
The Unite and Unison unions said on Monday more than 200 of its members were on strike.
'Started well'
During nine hours of discussions, the council said it had put forward a number of ideas, including the possibility of formally reviewing any changes to terms and conditions, in consultation with the unions within two years.
Unions also agreed a refuse crew could be sent to flats to clear rubbish which posed a potential fire risk.
About 55 street cleaners are continuing a seven-day strike while refuse collectors will end a second two-week walkout on 22 June.
About 40 traffic wardens and about 20 bridge workers have also taken action.
The strike is in response to a plan by the Conservative-led authority to impose new contracts on the city's 4,300 council employees, which they have to accept by 11 July.
In February, councillors finalised budget cuts of £25m and said all workers earning more than £17,500, which is 65% of staff, would have their pay cut by reducing working hours.
The city council said the alternative to pay cuts was to lose another 400 staff on top of the 285 already planned.
Council leader Royston Smith said: "Some progress has been made at today's negotiations with Unite and Unison, and the council has offered to clear its diary for the next week to continue this progress.
"We believe that the negotiations have not been exhausted and we very much hope that unions agree to continue finding a way forward.
"In offering to continue negotiations next week we have made it clear to unions that if sufficient progress is made we would be prepared to withdraw the dismissal notices."