Listed Portsmouth pub hotel plan criticised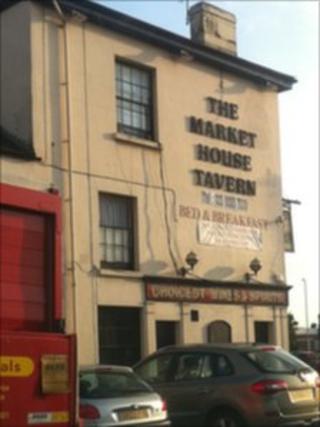 Plans to demolish a Grade II-listed pub in Portsmouth and replace it with a 14-storey hotel have been criticised by a heritage charity.
Developer Burlinghill Ltd wants to convert the Market House Tavern in Mile End Road, which currently has 10 guestrooms, into an 88-bed hotel.
But the Victorian Society said the site was of "national importance" and urged the council to block the plans.
The developer's agent said the building had "little historic merit".
Planners at the council said there would need to be a "very strong case" to demolish a listed building.
'Attractive survivor'
The Victorian Society, which campaigns for the protection of Victorian and Edwardian sites, said the proposal would "directly contravene national planning policy".
Heloise Brown, conservation adviser for the group, said: "Demolishing the Market House Tavern would be wasteful, unimaginative and unnecessary.
"This attractive survivor still retains its historic character and elegant proportions and it should remain part of the city."
The developer's agent Elmwood Design said: "The site is very different from that was originally conceived of by the originators.
"It is cut adrift of any context whatsoever.
"Apart from the quite handsome front elevation we can find little architectural or historic merit."
Councillors will consider the outline application in July.