Man dies going overboard in cross-Channel sailing race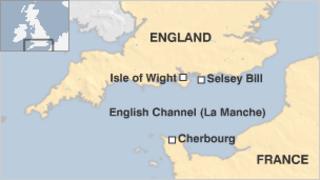 A man has died after falling overboard during the cross-Channel Morgan Cup Race from the Isle of Wight to France.
Christopher Reddish, 50, of Grandison Road, in Clapham Junction, London, fell from the 40ft (12m) yacht Lion during bad weather on Friday night.
He was recovered by the crew but later pronounced dead onboard.
The Marine Accidents Investigation Branch has begun an inquiry into the incident, which happened about 10 miles (16km) off Selsey Bill.
Mayday call
The yacht's Mayday call was picked up by coastguards and the boat later escorted into Portsmouth Naval base by the Bembridge Lifeboat.
Police were called and said officers were preparing a report for the coroner. The incident is not thought to be suspicious.
Mr Reddish was pronounced dead by a fellow crew member who was also a doctor.
The yacht originally sailed from Shamrock Quay in Southampton, to begin the race from Cowes to Cherbourg at about 1930 BST.