Southampton family flees terrace house fire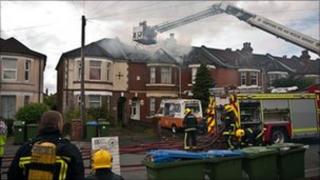 A family has managed to escape after their terraced home in Southampton caught fire.
Firefighters were called to the mid-terrace two-storey property in Atherley Road, Shirley, on Sunday afternoon.
The family had already managed to leave the property as the fire took a hold of the roof. Crews managed to stop the flames spreading to adjacent homes.
The cause of the fire is not yet known and an investigation has been launched with Hampshire Constabulary.
The roof of the house was completely destroyed and the first floor damaged by fire and water.