Ice patrol ship, HMS Protector joins the navy fleet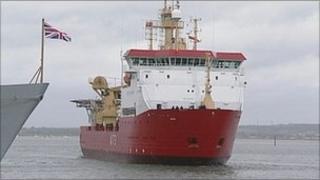 A ceremony to commission HMS Protector into the Royal Navy's fleet is being held at Portsmouth Naval Base.
The ship will fulfil the Royal Navy's ice patrol role in the Antarctic while the future of HMS Endurance is being considered.
The 10-year-old 5,000-tonne vessel has been leased from a Norwegian company for three years.
HMS Endurance, known as Red Plum, was severely damaged by flooding off the coast of Chile in 2008.
Defence minister Peter Luff will be the principal guest at the ceremony at the naval base.
HMS Protector was built in 2001 as an Antarctic research ship but has undergone a refit for its new role.
The ship, formerly known as MV Polarbjorn which entered Portsmouth under the Norwegian flag, was officially named HMS Protector on 1 June.
The name Protector has a historic connection with Britain's Antarctic commitment as it was the name of the ship which preceded the Endurance.
Protector will carry out all the functions of an Antarctic patrol ship involving close links with the Foreign and Commonwealth Office, the UK Hydrographic Office and the British Antarctic Survey.
HMS Endurance was flooded with water from a broken valve while off the coast of Chile in December 2008.