Southampton dock workers sentenced for cigarette crime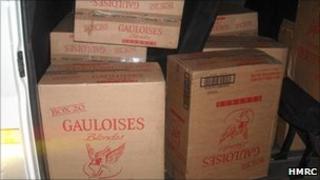 Two Southampton dock workers who attempted to smuggle 100,000 cigarettes have received a suspended prison sentence from city magistrates.
Christopher Gregory, 41, from Romsey, and Stephen Le Carpentier, 43, from Southampton, pleaded guilty to evading £27,000 of duty.
They were arrested on 17 November 2010 after port security staff saw them loading the cigarettes, thrown from a berthed container ship, into a van.
Both men have since been sacked.
The pair were also given 250 hours of community service each.
John Cooper, HM Revenue and Customs, said: "Their actions would have undercut honest retailers and deprived the UK of vital public funds.
"We will continue to work closely with the port authorities and police to root out this kind of illegal activity and disrupt criminal operations wherever possible."