Southampton council workers in pay cut protest march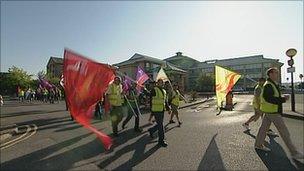 Hundreds of council workers marched through Southampton in protest at the introduction of new contracts that have forced nearly all to take a pay cut.
They walked from Andrew's Park to the city's Guildhall to protest outside a meeting of the full council.
During the demonstration they went into the meeting to listen to discussions about the cuts but walked out.
More than 99% of Southampton City Council workers signed new contracts on Monday which cut their salaries.
The Conservative-led authority says the move is necessary and will save 400 jobs in the long run.
During the council meeting the protesters booed and heckled throughout.
When the authority's leader Royston Smith stood up to give a speech the protesters got up and left the meeting.
Steve Brazier, Unison regional manager, said: "Union members are angry [at] the way the Tory council has torn up their contracts and are cutting jobs and services across the city."
The rally was addressed by Unison's assistant general secretary Keith Sonnett, who confirmed the union's full support for workers during the dispute.
Meanwhile a strike by refuse collectors, street cleaners, parking wardens, librarians and many other employees continues.
Mr Smith said: "I acknowledge and understand people's right to demonstrate.
"But the terms and conditions have now been signed and more than 99% of staff have signed up and are back at work.
"It's time we tried to get back to work and put this behind us."
He added: "My view is that the reason we did this was to protect over 400 jobs - the alternative was wholesale redundancies."
The council said it had 10 refuse trucks with agency staff working to collect "as many bins in the city as possible" this week, as many residents had not had refuse collected since 23 May due to the action.
A council spokeswoman said that out of the 4,627 employees who had received letters, 17 staff had chosen not to sign the new contracts so would lose their jobs.
Seven of them are social workers, while the others are spread among the departments.
Staff had been given until Monday to agree to their new pay terms and conditions, which involve those earning more than £17,500 a year taking a pay cut of between 2% and 5.5%. Their salaries will also be frozen for two years.
The unions and the council have said they want more talks to solve the dispute but no date for this has yet been set.
Related Internet Links
The BBC is not responsible for the content of external sites.