Ferry firm ends £8m animal export compensation claim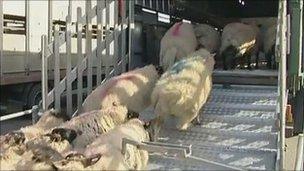 A compensation claim against a council by a ferry firm over a levy placed on the company's animal transportation business has been dropped.
Celtic Link Ferries wanted to export live animals through the council-owned port of Portsmouth, prompting a council charge of £5,000 per truck.
The authority said it was to pay for security. Shipping live animals is legal but there are welfare issues.
The ferry company claimed £8m from the council for loss of business.
Mike Hancock, MP for Portsmouth South, said the city did not want the trade in its port and had effectively used the levy as a deterrent.
He said: "We couldn't ban it so we put a levy on it to pay for problems it caused."
Animal welfare groups had protested at the port and the firm stopped its live animal transportation in November 2009.
He said the authority had impounded one of the company's ships in France over unpaid fees but that this had now been settled.
Mr Hancock said: "We don't have live animals going through our ports and quite right too."
Celtic Link Ferries declined to comment.
Related Internet Links
The BBC is not responsible for the content of external sites.