Family of Robert Sebbage fly to Greece after his murder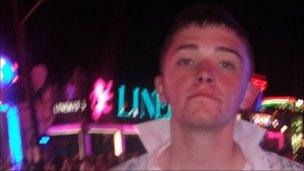 The family of a Hampshire teenager stabbed to death while on holiday in Greece have flown out to the island of Zakynthos where he died.
Former England football mascot Robert Sebbage, 18, from Tadley, had been on holiday with a group of friends.
A 21-year-old taxi driver charged with his murder is said to have confessed to stabbing a person, according to the Greek Embassy.
Mr Sebbage had been on his first holiday abroad without his parents.
He and his four college friends were attacked in the early hours of Wednesday at the Laganas resort on the island, also known as Zante.
All five suffered knife wounds - Mr Sebbage fatally, and one of his friends seriously.
Earlier, an embassy spokesman in London said the main defendant had told police he had been provoked.
A second taxi driver, aged 25 and charged with complicity to commit murder, had told police he did not attack any of the British men but was trying to "set them apart".
The men are due to appear before a Greek magistrate on Friday, who is expected to jail the main defendant until the case is brought to court, the spokesman said.
Meanwhile, tributes have been paid to football fan Mr Sebbage, who was pictured alongside David Beckham in 2007 when he was chosen as the mascot for the England team in a friendly against Brazil at Wembley.
Stephen Sheedy, principle of Queen Mary's College in Basingstoke where he studied A-Levels in English language, media studies and sociology, said the group were all either students or former students at the college.
He added: "People really admired his determination and courage. He was well-liked and there was a lot of respect for him, people just knew him as a nice lad.
"No-one here can really understand it. There wasn't a thug amongst them.
"Depending on what his parents want we may put a memorial up at the college."
Mr Sebbage's former school, Hurst Community College, is to hold a minute's silence on Friday.
Headteacher Malcolm Christian said: "He held a special place in our hearts for the way in which he had fought hard to overcome a significant medical [bowel disorder] condition when he was younger.
"We remember the many friendships he had created, his quiet tenacity in overcoming adversity and how well he achieved with us at GCSE level prior to going on to sixth form college."
His family said in a statement: "All these young men are very close friends. They are simply just a bunch of nice lads and this is their first holiday abroad and they had all gone just to enjoy themselves."
Related Internet Links
The BBC is not responsible for the content of external sites.