Forestry Commission should not run New Forest says charity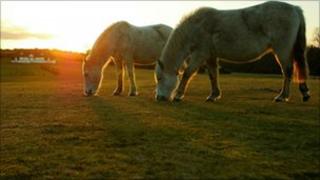 One of the world's oldest conservation charities has said the Forestry Commission should not be responsible for the management of the New Forest.
The forest, which is mostly in Hampshire, should be treated as a special case and not subject to blanket rules, says the New Forest Association.
The Forestry Commission said it would not comment on individual views.
In February the government was forced to abandon its plan to sell off 258,000 hectares of state-owned woodlands.
The Independent Panel on Forestry was set up in March and is currently examining the future of England's forests.
The New Forest Association, which was formed in 1867, wants landscape managers brought in to replace the Forestry Commission, saying it would help protect the area's "unique status".
Heathland planted
Peter Roberts, chairman of the New Forest Association, said: "We think that the Forestry Commission in the New Forest shouldn't be managing the forest because they have to look two ways - they have to adhere to national policy and at the same time they have to be aware that they are managing a unique area and the two don't work together.
"We're not actually asking the Forestry Commission nationwide to be disbanded just that they should be removed from this area.
"I think you'd need to replace the Forestry Commission with land managers who looked to the whole of the area and looked to provide what is best for the biodiversity, for the recreation, rather than for the plantations that the national policy dictates.
"Since the war [World War II] hundreds of acres of land has been taken up and planted with inappropriate conifers, and that land is part of the largest area of lowland heathland in Europe and should never ever have been planted.
"As far as the rest of the management goes they're not very good at informal recreation. They need to take a closer grip on dogs that are out of control and on cyclists who are off the lines [paths]."
In a statement, the Forestry Commission said: "The Independent Panel on Forestry is currently seeking views and all have a right to express their opinions in response.
"The Forestry Commission will not comment on these individual responses - they are to be fed directly into the independent panel and the government will respond once they have received the panel's report."