Plasterer from Winchester wins £1m on scratchcard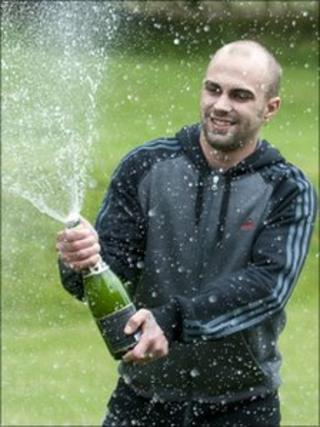 A plasterer from Winchester who won £1m on a scratchcard says he will still be going to work - but in a new Audi car.
Steven Clements, 23, bought the £5 Millionaire Maker Scratchcard on 12 July after he had won £100 on another card earlier that day.
Mr Clements told how he was shaking and had to get a friend to double check he had won before they began celebrating.
Since the win Mr Clements says that in addition to the car, he would like to buy a house in the Winchester area.
So far, he has only bought clothes with his winnings.
'Shouting and leaping'
Mr Clements, who has worked as a plasterer since leaving school, said: "It was a big shock. I was speechless and shaking.
"My mate was joking that I'd never win anything but I've been lucky before so think it's worth a go.
"When I saw the card, I had to get him to check that I really was a millionaire.
"After that we were all shouting and leaping."
Trouble sleeping
Mr Clements' mother did not believe him and he had to show her the ticket.
"She's really happy for me," he said.
Since the win, he has been going into work even though he admits he has had trouble sleeping.
"When I told my boss, he was really worried I was going to leave because he has a lot of work on, but I will stay to help him out.
"I do enjoy plastering. It's something I'm good at and I'm not good at many things, so I will continue working."
He added: "I'm more careful with money now."