Southampton city council strikes to go ahead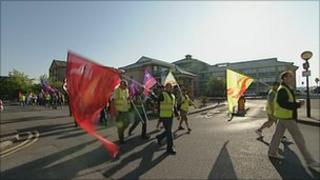 Further strikes are set to go ahead in Southampton after talks between the city council and unions ended without agreement.
Toll collectors, parking officers and street cleaners will walk out for seven days on Monday 25 July in an ongoing dispute over pay and conditions.
Unison said the discussions were amicable but no agreement was reached. More talks are scheduled for Monday.
Refuse collectors are continuing to work to rule.
The unions said an announcement could be made on Monday afternoon about further strikes, depending on the outcome of Monday's talks.
Hundreds of workers marched through the city last week in protest at the introduction of new contracts that have forced the majority of workers to take a pay cut.
More than 99% of the council workers signed the new contracts on 11 July.
The Conservative-led authority says the move is necessary and will save 400 jobs in the long run.
In February, councillors finalised budget cuts of £25m and said all workers earning more than £17,500, which is 65% of staff, would have their hours cut - resulting in a loss of pay.