Southampton festival opens Clipper Round the World Race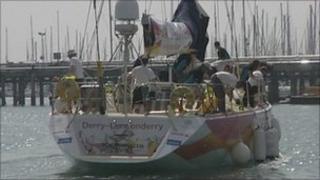 A free festival to mark the start of the Clipper Round the World Yacht Race is under way in Southampton.
The three-day event in the city's Ocean Village will feature bands, dancers, acrobats, fire eaters and fireworks.
Some of the 10 yachts taking part in the race will have their naming ceremonies at the event.
Visitors can also see the racing yachts berthed in the marina before they set off on their 40,000-mile journey on Sunday.
The city council said tens of thousands of people were expected to visit the festival.
World's longest race
Music will be performed by acts such as Toploader, Delays, Parade and Rufus Stone.
Royal Navy aircraft carrier HMS Illustrious will wave off the yachts.
The fleet will sail in formation ahead of HMS Illustrious at 13:30 BST on Sunday in time for the start of the race, off the Royal Yacht Squadron Line in Cowes at 16:30 BST.
The competition is the world's longest yacht race, with participants taking almost a year to circumnavigate the globe.
The fleet of 10 identical 68ft (20m) ocean racing yachts and 10 skippers are supplied by the race organisers. Each yacht is sponsored by a city, region or country.
Participants, many of whom are sailing novices, come from all walks of life and undergo a four-stage training programme to prepare them for the gruelling journey.
The first leg will involve crews sailing from Europe to Brazil.
'Personal determination'
Commanding Officer of HMS Illustrious Captain Jerry Kydd said: "The Clipper Race stands for much of what the Royal Navy and Royal Marines hold dear: personal determination and fortitude, in dangerous and demanding conditions, where teamwork, resilience and a winning spirit overcome any challenge the crews may face on their adventure.
"On behalf of the officers and crew of HMS Illustrious, I wish all yachts and their crews the very best of luck for a safe and fast circumnavigation and a cracking race."
Founder and chairman of the Clipper Race Sir Robin Knox-Johnston, the first man to sail solo and non-stop around the world, said: "The Clipper Race has always had a very strong relationship with the Royal Navy and I am very pleased to welcome HMS Illustrious for the start of Clipper 11-12.
"She is part of the large maritime community of the south coast and I am very keen that as many members of that community as possible are able to enjoy this event which promises to be a quite spectacular sight."