Havant and Waterlooville v Real Betis stage friendly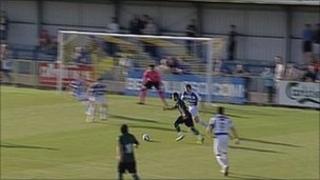 It will go down in football folklore as one of the most unlikely games ever played in England.
The matadors against the minnows.
A glamorous top flight Spanish team versus a plucky non-league side from Hampshire.
And it only happened because of an accident at a US airport.
Real Betis from Spain's La Liga should have been playing Championship side Portsmouth. But their return home from an American pre-season tour was delayed when their plane was hit by a catering truck - and they were stuck in North Carolina.
Sipped beer
Into the breach stepped Havant and Waterlooville from the non-league Football Conference South.
In just 30 hours they found a suitably-qualified referee, finalised details and dispatched a guide to lead the Spanish club's coach to their Westleigh Park ground, nestled between a housing estate and a skate park.
Adding to the atmosphere in the Spanish-style sunshine were around three dozen Betis fans.
They will soon be visiting the likes of Real Madrid and Barcelona. But they happily sipped beer with the Havant and Waterlooville fans - enjoying what will no doubt be their one and only visit to Westleigh Park.
On a perfect pitch, Real Betis demonstrated why they won promotion to La Liga last season. Their football was silky and sophisticated. Inch perfect passes. Sublime control of the ball.
Trevor Brock, a director at the Hampshire club, described the visiting team as "electric".
Home team hero
Havant and Waterlooville's goalkeeper Nathan Ashmore said: "They are the best team I have ever played against in my life."
He was one of the home team heroes, pulling off a string of top notch saves to stem the rush of goals.
Real Betis were leading 5-0 by half time, with a hat-trick by Ruben Castro and two goals by Jorge Molina.
Sergio scored the sixth goal in the 54th minute. And an impressive 7-0 victory was sealed by Salva, who scored a penalty.
There were 800 supporters in the stadium - and they watched a game they'll never forget.
Havant and Waterlooville can now concentrate on preparing for their league fixtures - when they'll come up against clubs like Boreham Wood, Basingstoke and Bromley.
In La Liga, Real Betis will be playing Barcelona and Real Madrid.