Portsmouth man sentenced for 'microwaving' pet cat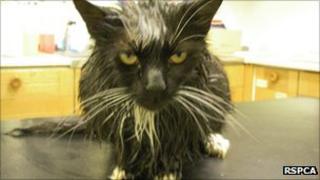 A Hampshire man has received a 16-week jail sentence, suspended for 18 months, after he microwaved his pet cat.
Stephen Stacey, 20, of Omega Street, Portsmouth was found guilty of causing unnecessary suffering to the cat, which he had named Comeonthen.
The cat was thought to have been in the microwave for six seconds and suffered singeing of its fur.
It has been renamed Nancy and is now being cared for by the RSPCA in Fareham.
The RSPCA's Micky Garrity said: "The way this poor cat was treated was appalling,
"I am glad the court has recognised the serious nature of this offence and has out a clear message that, under the Animal Welfare Act, pet owners have a duty of care to protect their animals."
Stacey was also banned from keeping animals for life and was made subject to a six-week night-time curfew.
The RSPCA said the cat could eventually be rehoused.