Gosport church's Handel organ wins lottery award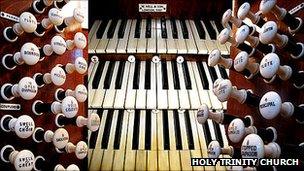 A Hampshire church organ, believed to have been played by George Frederick Handel, has been awarded lottery funding for its restoration.
The organ, now in Holy Trinity Church, Gosport, was originally commissioned in 1720 for the Duke of Chandos while Handel was his composer-in-residence.
The £167,000 Heritage Lottery Fund grant adds to £42,000 raised locally through an "adopt a pipe" scheme.
The Reverend Andy Davis said it showed the organ's "heritage significance".
The organ was bought by the church in Gosport when the duke fell on hard times and had to sell it. It was installed in the west gallery and later rebuilt at the end of the 19th Century. Eight ranks of pipes and its case remain, dating from Handel's time.
The delicate restoration work will include repairing soft metal pipes which have bulged over time, and wooden ones which have split.
The work will be carried out by organ builder, Andrew Cooper from Ryde, Isle of Wight, who has been maintaining the organ in a working condition for several years.
Related Internet Links
The BBC is not responsible for the content of external sites.