Sailor Dee Caffari made Royal Navy honorary commander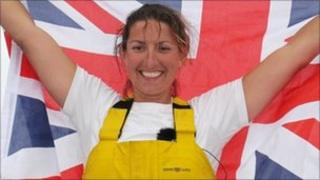 Record-breaking yachtswoman Dee Caffari has been made an honorary commander of the Royal Navy.
Caffari, 38, a former PE teacher from Hampshire, is the only woman to have sailed around the world non-stop three times.
The naval distinction is in recognition of her work with the Toe In The Water charity for injured service personnel.
She said: "It is an honour to be recognised for my achievements and support of the armed forces."
The charity helps injured service personnel with serious injuries, including the loss of limbs, to take part in competitive sailing.
Director general of army medicine, Maj Gen Mike von Bertele, said: "Dee has been a great inspiration to many of our injured servicemen and women and her energy, genuine enthusiasm and commitment to the work we do is invaluable.
"It's great to see her dedication and passion recognised in this way."
The honorary rank, which is approved by the Queen, has also been awarded to adventurer Bear Grylls and fellow British yachtswoman Dame Ellen McArthur in recent years.