Gecko hitches ride from Spain to Hampshire in suitcase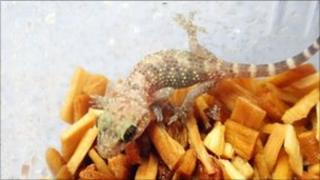 A lizard hitched a ride from Spain to Hampshire in a holidaymaker's suitcase.
Russell Lucas, from Portsmouth, discovered the Moorish gecko as he was unpacking after a trip to Almeria with his grandchildren.
The 4cm (1.5in) creature had survived a two-and-a-half hour flight and nearly 24 hours in the suitcase.
Mr Lucas said: "We immediately knew what it was as we had been watching the lizards catching insects on the wall of the house in Spain the night before."
Mr Lucas has handed the gecko to the Blue Reef Aquarium in Southsea where it will be cared for.
Moorish geckos, also known as crocodile or wall geckos, are native to the western Mediterranean region of Europe and North Africa.
Fully-grown adults can reach up to 15cm (6in) in length and are commonly seen on walls in the warmer, coastal towns and cities of Spain.