Portsmouth George Medal theft 'despicable'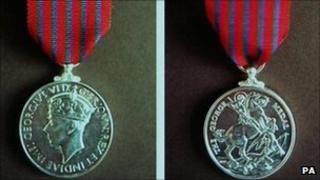 A senior Portsmouth councillor has condemned the theft of a George Medal from the city's D-Day Museum.
The medal, along with a badge from the 1936 Berlin Olympics, was taken from a locked display case at the weekend.
Lee Hunt, cabinet member for culture and leisure, said: "The medal, issued for bravery, was stolen by someone who couldn't be further from that."
The stolen medal was awarded to William Henry Daysh, the first person in Portsmouth to receive it.
'Burning building'
A council spokesman said: "He was a member of his workplace's air raid precautions team.
"On 12 August 1940, one of their buildings was set on fire by bombing, leaving a carpenter unconscious inside.
"Although Daysh himself had been wounded, he went inside the burning building to try and rescue the man, came out again to seek help, and then went back in again.
"He was trapped by falling debris, and both men were rescued by a fire party.
"The medal has local and national historical significance."
Mr Hunt said: "This is a truly despicable act.
"These items were lent to us in good faith from their owners and we were proud to be able to display them to visitors."
The George Medal was introduced in 1940 to reward courage shown during the Blitz.