Southampton City Council to cut more jobs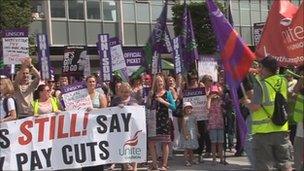 A council at the centre of a pay dispute with staff is to axe more than 200 further posts, it has confirmed.
Workers in Southampton have staged a series of strikes since May after being forced to accept a pay cut of up to 5.5% for those earning £17,500 or more.
Council bosses said the pay cut had saved 400 jobs but it still had to cut 108 full-time posts in 2012/13 while a further 109 will be left vacant.
Unison said the cuts were "not fair" and was in discussion with its members.
The unions are still trying negotiate an agreement over the pay cut and will consult its members on the job losses.
On Thursday, it was announced strikes had been put on hold while members were balloted on a new deal.
The council said it has to save about £15m in the next financial year with a predicted saving of about £25m this year.
It will mean the equivalent of 108 full-time posts will be cut with about 50 compulsory redundancies, while a further 109 vacant posts will not be filled.
Unison branch secretary Mike Tucker warned the new round of job cuts could jeopardise an agreement.
Workers, including refuse collectors and social care staff, have been involved in a number of walkouts in a long-running row with the authority.
Mr Tucker said: "The situation is not fair for our members.
"We do not believe the pay cut has actually saved 400 jobs seeing as we are losing more than 200 next year.
"We think the council should be looking to cut things like the 10% council tax discount it gives to pensioners, which would save about £1m."
Plans have also been unveiled to cap redundancy payouts.
Leader of the Conservative-led council Royston Smith said: "We are really clear, jobs are important.
"I believe it is better to take a pay cut and stay in a job than lose it.
"I believe these will be among the lowest job cuts than any other equivalent unitary authority."
Councillors are expected to set the budget in February.
Related Internet Links
The BBC is not responsible for the content of external sites.