Electronic car key fob mystery on Southampton street solved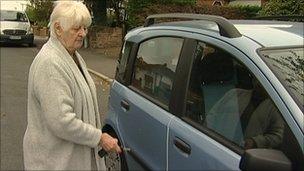 The mystery behind why electronic car key fobs were not working on part of a Southampton street has been solved.
On Saturday people living on Dimond Road found their fobs would not open their cars but worked elsewhere.
Ofcom inspectors were called and found interference from a resident's faulty device which transmits a TV signal to other sets in the home was to blame.
The device has been switched off and the key fobs are working again.
Resident Madeleine Wentworth said: "All the residents are really happy they are working again. We are all happy bunnies.
"I saw two people today go out shopping and they said 'oh it's working again'.
"Everyone was baffled on the street. We knew there was something wrong."
Ofcom, the government agency with responsibility for radio communications, said "leakage" from the device emitted the same frequency as the key fobs and blocked their signal.
A spokesman added: "We've got a team of inspectors around the UK and sent some officers down to the street.
"They tracked the problem down quickly to a faulty TV sender.
"The owner was asked to turn it off."
He added the owner should seek advice from the manufacturer of the faulty device.
Neighbours had speculated about the interference being caused by a mobile phone mast or the nearby Southampton International Airport.
But an airport spokesperson said it had not changed any of its frequencies.
Related Internet Links
The BBC is not responsible for the content of external sites.