Isle of Wight's self-sufficiency plans unveiled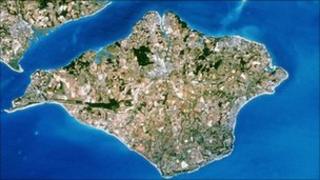 Plans to make the Isle of Wight self-sufficient by 2020 have been unveiled at Westminster.
A community group hopes to turn the island into a "living laboratory" with support from companies such as Cable & Wireless, IBM and Toshiba.
Ecoisland said power for the population of 142,500 could come from a waste to energy plant, solar panels and tidal and geothermal power.
But energy experts said completing the project by 2020 would be a challenge.
'Being prepared'
Dr Nick Eyre, from the University of Oxford, said: "Besides generating their own energy from a variety of renewable sources, they will also need to persuade a lot of householders and businesses to insulate their homes and this needs to be done to a very high standard.
"Decarbonising the island's transport system is also essential and this requires a wide range of individuals and organisations to take on major technical, social, and cultural changes.
"But it is exciting to see communities being prepared to take on this essential challenge and show leadership in the de-carbonising of our society."
Ecoisland presented 14 objectives at the House of Commons outlining how it intends to achieve self-sufficiency and become a net exporter of energy.
Speaking at the event, the CEO of Toshiba Europe, Koji Iwama, said the Ecoisland project was a "model community" that could help push the UK to the forefront of energy efficiency.
Plans include a geothermal plant to tap into an underwater reservoir 1.8km (1.1 miles) beneath the island.
Global companies
It is also hoped energy from solar panels will produce hydrogen for vehicles, and tidal generators could create further green energy.
The island, which is 37km (23 miles) long and 21km (13 miles) wide, annually draws 600GWh of electricity per year from the mainland.
Ecoisland's founder David Green claimed the pilot schemes would result in an investment of tens of million of pounds.
He said: "I've been overwhelmed by the enthusiasm of these global companies and the fact they have decided to come and make this a show-home for their technology."
Ecoisland is a Community Interest Company, which means it can act like a limited company but its assets and profits must be used for the benefit of the island's 142,500 residents.