Sailor Nick Rogers £90k in debt in Olympic gold pursuit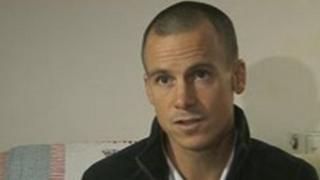 A sailor from Hampshire is £90,000 in debt in his pursuit of Olympic gold.
Nick Rogers, 34, from Lymington, has re-mortgaged his house, borrowed his parents' savings and has spent all his own savings to fund his campaign.
Mr Rogers won Olympic silver with Joe Glanfield in 2004 in Athens, and at the 2008 Beijing Games in the 470 class.
Last year the two men retired but in January this year, after regretting his decision, Mr Rogers started a 2012 Olympics campaign.
He said: "I knew it was going to cost everything that we had and more and so I'd have to generate funding.
"I knew it was a long shot."
Mr Rogers and his new sailing partner Chris Grube went on to win the only British place for the Olympic test event in May.
The next step for the men is the world championships in Perth, Australia, in December.
If he is the first British boat through and finishes in the top three, Mr Rogers believes it will be enough to be selected for Team GB.
He said: "If we win the world championships it would be just such a pay day for all of the people who have backed me.
"It really would be a huge relief."
Weymouth and Portland in Dorset will host the Olympic sailing events during London 2012.