Southampton General Hospital's helipad is ready for use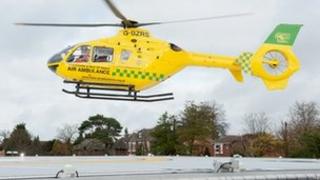 The new helipad at Southampton General Hospital is ready to receive flights carrying patients following completion of safety tests.
The Hampshire and Isle of Wight Air Ambulance successfully landed and took off from the platform on Thursday, proving it was safe to use.
The helipad is expected to significantly reducing transfer times to and from the A&E department.
Dr Andy Eynon from the hospital said the facility will "save lives".
He said: "Southampton General Hospital serves as the major trauma centre for the region and provides specialist children's services for the whole of the south of England.
"It also provides specialist care for patients suffering strokes, heart attacks and other critical illnesses. This helipad will offer many more people access to the care they require."
It was funded by donations and construction started on the platform in September.