Southsea to Isle of Wight Hovercraft service suspended over safety concerns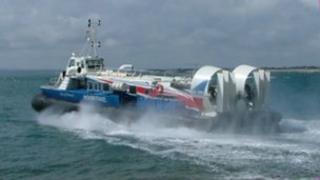 Safety inspectors have suspended the hovercraft service between Hampshire and the Isle of Wight because of concerns over one of its craft.
It follows an incident in which part of a propeller came off Hovertravel's newest hovercraft.
The Maritime and Coastguard Agency said an investigation found inconsistencies in safety management systems, particularly with vessel maintenance.
Hovertravel has been running ferries between Southsea and Ryde since 1965.
Hovertravel's ISM Document of Compliance, which allows it to operate, has been suspended, the government agency said.
It means the hovercraft Freedom 90 and Island Express cannot operate until further notice.
Apology to customers
The hovercraft which suffered the propeller failure is five years old and was built on the Isle of Wight.
Hovertravel has apologised to customers for the inconvenience caused.
It said: "The safety of customers, crew and hovercraft are of paramount importance.
"Hovertravel are working with the MCA continually throughout this evening and the weekend to ensure the capability of the craft before they are returned to service."
Richard Pellew, Maritime and Coastguard Agency area operations manager for the South East, said: "We are working closely with Hovertravel and the propeller manufacturers to investigate the circumstances around the propeller failure.
"Hovertravel's management team has responded positively to our concerns and we will be working with them over the weekend to resolve the issues so these hovercraft can return to service as soon as possible."
Paul Clifton, BBC South's Transport correspondent, said: "For passengers this has come without warning, so anyone expecting to travel will have to find a different route.
"This is the world's longest running commercial hovercraft service and it's the only one in Europe.
"At eight minutes, it's also the fastest route to and from the island.
"For the Maritime and Coastguard Agency this is unprecedented. Very occasionally inspectors have prevented a single passenger ship from operating - on two or three occasions in the last 20 years."