Arthur Hill Baths in Reading 'needs a makeover'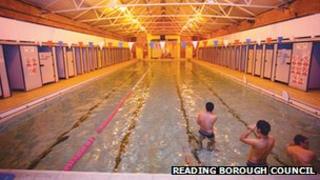 A Berkshire swimming pool celebrating its centenary is in a "state of disrepair" and needs a makeover, a local Green Party councillor has said.
The Arthur Hill Memorial Baths in Reading opened on 29 November 1911 and remains popular with local residents.
Rob White said repairs needed include missing pillar tops, peeling paint and a sign that has "greyed with age".
Labour-run Reading council said it had already invested about £60,000 in the building's gym and pool.
Culture and sport councillor Marian Livingston said: "Over the last few years we have invested around £60,000 in the gym and the swimming facilities to improve them and encourage even more people to visit.
"We're very pleased to announce also that funding of £21,000 has been secured to improve the filters at the pool which will extend their life for another 15 years."
The building was donated to the people of Reading by members of the Hill family in memory of Arthur Hill JP who was mayor of the town four times between 1883 and 1887.