Portsmouth's Olympic 2012 pin badge on sale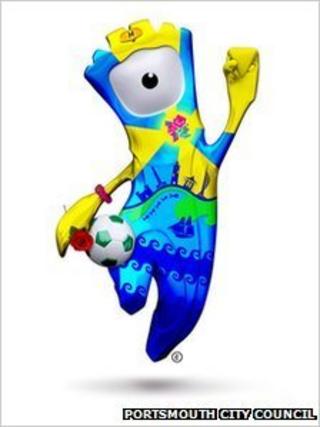 An official 2012 Olympic pin badge featuring well-known Hampshire landmarks has gone on sale.
The badge includes a new version of the Games' mascot Mandeville, created by 13-year-old Lauren Linter from Portsmouth.
It is the dedicated Olympic badge for the South East and features images of Spinnaker Tower and HMS Victory.
The design beat more than 2,500 entries in the Get Set contest from the London 2012 Education Programme.
Children and young people in schools and colleges across the UK were given the chance to create a design for either Olympic mascot Wenlock or Paralympic mascot Mandeville.
Each had to represent the local community or region.
Miss Linter, who hopes to study art and graphics at GCSE level, said: "I'm really proud to have won this competition and to see my design representing our part of the country for such an amazing event.
"I designed it this way so it would stand out against the other cities and show off some of the things that make Portsmouth great.
"My design is colourful and shows a bright seaside city and how much I like it here.
"I also included the sun to match Portsmouth's motto, 'Heaven's Light Our Guide'."
Leader of Portsmouth City Council Gerald Vernon-Jackson said he was proud to see Portsmouth represented as part of London 2012's "snapshot of British life".
There are 12 badges in total - each featuring a different design and region.
The regions included are: Yorkshire and the Humber, South East, West Midlands, East Midlands, East of England, North East, South West, Wales, Scotland, North West, London and Northern Ireland.
Lord Coe, the chairman of the London Organising Committee of the Olympic Games (Locog), said the competition highlighted how young people across the UK can get involved and "play their part" in London 2012.