Royal Marine's father urges MoD to 'speed up' inquests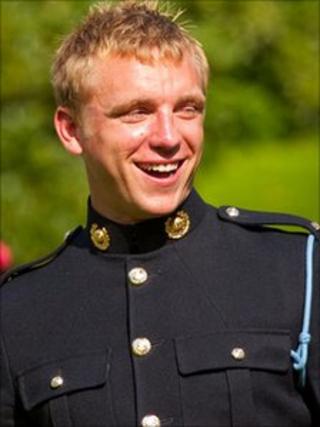 The father of a Hampshire Royal Marine killed by an explosion in Afghanistan has called for the process of military inquests to be speeded up.
Richard Hollington, from Petersfield and of Somerset-based 40 Commando, died in Birmingham Hospital in June 2010, eight days after the blast in Sangin.
Coroner Adrian Cotter ruled on Monday he was "killed by the enemy while on active service for our country".
He apologised for the length of time the family had to wait for the hearing.
After the hearing at Sutton Coldfield Town Hall, Robin Hollington, who was himself a Royal Marine, said: "I would like to draw your attention to the coroner's closing remarks about the cruel length of time it can take to hold a military casualty inquest.
"It seems to me that it would not cost a great deal and I call on the Ministry of Defence and the Ministry of Justice to make it happen."
It is believed Marine Hollington, 23, was killed by an insurgent who triggered an explosive device. He was the 300th British serviceman to be killed in Afghanistan.
Mr Hollington also paid tribute to all the people who supported his family after his son's death.
'Immensely proud'
He said: "We said that Richard's death left a huge numbing hole in the lives of our family and over the last 18 months that has proved to be the case and continues to be so.
"However, we have been greatly helped by the military support organisations, 40 Commando and the wider Royal Marines family."
He added: "It has been comforting to find out how highly regarded Richard was held by all.
"We always have been and always will be immensely proud and desperately sad at his death. We miss him terribly."