Portsmouth's Blue Reef Aquarium adds baby zebra shark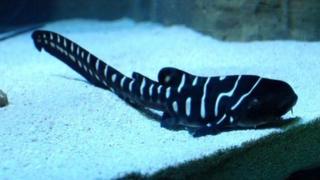 A rare baby zebra shark has been added to the sealife at Portsmouth's Blue Reef Aquarium.
There are thought to be fewer than 10 adult specimens in captivity in the UK.
Blue Reef's Lindsay Holloway said: "They're truly extraordinary-looking sharks and we will eventually transfer him to our large ocean display."
The shark is 35cm (13.8in) long but is expected to grow up to 3.5m (11.5ft), almost half of which will be made up by its tail.
The shark currently can be seen in a special display with a group of venomous lionfish.
Mr Holloway added: "Generally on land it's not a good idea to mix zebras with lions but in the water it makes perfect sense and he is getting on fine."
Zebra sharks are heavily fished in the wild for their fins and meat.
They are found in the shallow tropical waters of the western Pacific and Indian oceans and can live for up to 30 years.