First Christmas as father for Afghanistan blast soldier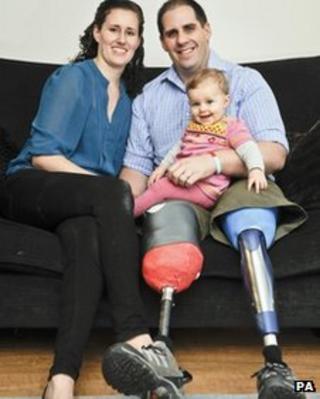 An Army medic who lost both legs in Afghanistan and feared he might never have children will celebrate his first Christmas as a father.
Sgt Simon Harmer, 35, from Winchester, Hampshire, suffered his injuries after stepping on a makeshift bomb while on patrol in October 2008.
He became a father to Sophia in February after two years of treatment and more than 12 operations.
"I adore her, she has got me wrapped around her little finger," he said.
"I'm a little bit of a handful sometimes and I think she is going to be a little bit of a handful as well."
He was one month into a tour and at the start of an operation with the Coldstream Guards when he triggered an IED planted 200 metres from his base.
The blast was so severe that the Bosnia and Iraq veteran lost his left leg above the knee, his right leg below the knee and broke his right arm.
Walking again
He had been married to his wife, 30-year-old school teacher Marisa, for only three months.
The injured serviceman is now walking again using prosthetic legs and looking forward to sharing in his daughter's future.
"I'd like to be able to do all the things that a father is able to do - take her camping, that sort of thing.
"Although I've got prosthetic legs, I'm never going to be able to do some of the stuff I want to do," he said.
"Everything can be achieved, I suppose, it's just about finding a way to do it."
Sgt Harmer still has one more operation ahead of him and is continuing his rehabilitation at Headley Court, Surrey.