Hampshire man describes Costa Concordia cruise ship panic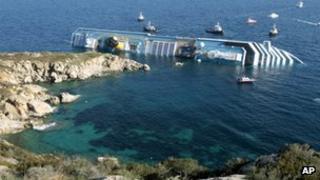 A Hampshire man who was on a cruise ship which sank in the Mediterranean has described scenes of panic as passengers tried to escape.
Edwin Gurd, of Burley, Ringwood, was on board the Costa Concordia when it hit rocks off the Italian coast on Friday.
The 64-year-old former chief inspector for Wiltshire Police said some men fell into the sea while trying to jump into a lifeboat which was already full.
He became separated from his wife, Liz, 58, who was on the boat at the time.
Mr Gurd eventually escaped about an hour later when one of the boats returned from dropping passengers off.
He said: "The thing that struck me was the fact that a lot of the men were trying to force their way onto the lifeboats in front of people who obviously needed to get off earlier.
"If there was a more orderly move onto the lifeboats then more people would have got off more quickly."
Mr and Mrs Gurd had been due to leave the cruise ship on Saturday so they were in their cabin after packing their bags when they felt a jolt and all the lights went out.
'Lifeboat problems'
A second jolt knocked their bin over so they collected their life jackets and went to the muster station on the fourth deck.
When they arrived, they discovered their muster station was on the side of the ship listing towards the sea.
"There wasn't panic initially - where we were there was one girl who was a bit hysterical, which was probably understandable - but as things got more difficult people started trying to push towards the life rafts and trying to get the crew to put them down," Mr Gurd said.
"Once they gave the order to lower the lifeboats there were problems with lowering the lifeboats because it [the ship] was listing and the mechanisms didn't seem to work properly.
"The one my wife was on... they closed and said it was full just after she got on and I was told to go to the next one.
"Obviously I didn't want to be separated but it was important that the women and children got off first.
"They were in the process of sorting it when about another 20 men jumped on board. According to my wife, some of them fell between the ship and the lifeboat but they managed to pull them back on board."
Mr Gurd did not manage to get on the next lifeboat - he waited another hour and tried several more muster stations before being told to go to a lower deck about an hour later.
'Crush danger'
He said: "People were trying to get on [the lifeboats] and pushing and I thought there was a danger of crush injuries and people being suffocated.
"There were women and children who needed to get off but there were men pushing against the barrier trying to get on board.
"I began to realise the dangers because the ship was listing at quite an angle by the time I got off.
"A lifeboat returned that had already dropped off passengers and had come back. We were told to go down to the third deck and jump on board the life raft.
"People were slipping because the angle of the list was quite steep at that time."
When the lifeboat was finally ready to leave, people on board began to panic because it became entangled with the listing ship.
Mr Gurd said: "There were some people shouting and screaming, others were withdrawn and quiet. Obviously people were very concerned because the ship was listing right over us."
The lifeboat was eventually freed and once ashore, Mr and Mrs Gurd, who both had their mobile phones with them, phoned their daughter, Brenda, who helped them find each other.