London 2012: Olympic winner Tommy Green celebrated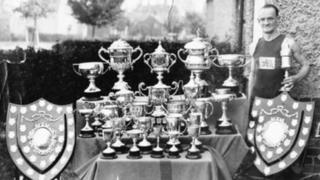 The career of a sporting hero who was unable to walk until he was five years old, but went on to win Olympic gold in road walking is to be celebrated in Hampshire this summer.
Olympian Tommy Green had the dubious honour of being presented with medals and trophies by both Mussolini and Hitler.
But his greatest achievement was in 1932 in Los Angeles when he won the Olympic 50km Race Walk at the age of 38.
Green's early life had not marked him out as a future Olympic champion.
He did not walk for the first five years of his life after developing rickets, he was injured after being crushed under a horse and during World War I suffered lung problems in a gas attack and was sent home to recover.
But Green, who was born in Eastleigh in 1894, overcame these early setbacks to become the first and oldest winner of the 50km Olympic gold.
And ahead of the London 2012 Games, his life and achievements are being marked in his home town with a street party and parade in his honour on 15 July.
Thomas Green left school at 12 to work as a butcher's assistant before following his father into the Army with the 20th Hussars regiment.
After the war he settled in Eastleigh and became employed at the Eastleigh Railway Works, where he was later to lose a thumb in an industrial accident.
He took up walking in 1926 at the age of 32, quickly winning races.
Speaking in 2009, his son Ray Green told local historian Jake Simpkin: "He came out of the First World War and he was asked to lead a blind man in a walk, and the blind man said: 'You're good Tommy, you should take it up'.
"My mother said he was daft. But after three walks he came back with a prize... after that he came back with a prize practically every time."
He joined Belgrave Harriers Athletics Club and began entering and winning major road races both in the UK and overseas.
His main competitor was the young Harold Whitlock who frequently came second to Green.
His son tells of one occasion when the two athletes went head to head at the London to Brighton race. Green's train was delayed and he was half an hour late to the start line at Big Ben.
The leaders were way off but Green was determined to take part in the 52-mile walk.
"So this friend of his [Whitlock] that was always second to him, saw the tape coming," remembered his son.
"He said: 'At last I'm going to win a London to Brighton,' and he heard the clip, clip, of my father's heels and he beat him on the tape, and he said: 'You devil Tommy.'"
Whitlock went on to take gold for Great Britain at the Berlin Olympics in 1936.
It was the era of amateur athletes, and Tommy Green's greatest triumph in Los Angeles was only made possible by the support of a local cinema owner from Eastleigh.
Victory walk
He paid for Green to attend the event and travelled over with him to America on the Empress of Britain - one of the most luxurious ships of its time.
Green won the race by more than seven minutes in a time of 4:50:10 and he remains the oldest ever champion in the event.
Walking remains part of the modern games. The men's 50km Race Walk in London will take place on 11 August on the streets around Buckingham Palace, finishing at The Mall.
The Tommy Green Walk To Victory event in July in will be a recreation of an event held on 22 September 1945, when Green took part in the walk to celebrate victory in Europe and Japan after World War II.
Even at the age of 51 he had lost none of his walking prowess and came 17th out of 146 competitors over the course from Eastleigh, through Southampton to Lyndhurst and back.
Point youth theatre director Daniel Hill said: "This is going to be one of the biggest street parties Eastleigh has ever seen.
"To make it as authentic as possible, we want to hear from anyone with stories about Tommy Green or Eastleigh in the 1940s and 1950s."