Hampshire County Council's first web meeting viewed by hundreds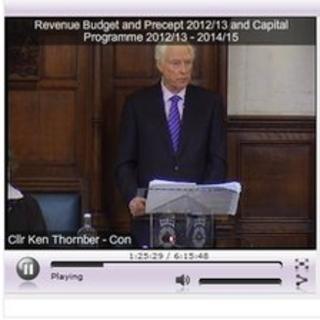 More than 800 people have so far watched the first Hampshire County Council meeting to be streamed online.
The authority was criticised for spending £205,000 on new video and audio equipment in order to broadcast.
But council leader Ken Thornber said the debate on 23 February was watched by an audience "far greater" than would ever had been seen in the chamber.
About 600 people watched discussions on a £45m package of budget cuts live with about 200 viewing archived footage.
Keith House, leader of the Lib Dems on the council, had criticised the cost in upgrading the equipment, saying it was the wrong way to spend public money in hard financial times.
'Bringing to life'
But Conservative council leader Mr Thornber said the audio system needed to be upgraded anyway and the benefits were clear to see.
He added: "By opening up some of our meetings to a wider audience in this way we hope to enable a greater understanding of how we reach certain decisions and encourage more people to become engaged in the process.
"It is not always easy for people to attend meetings or have the time to read through council agenda papers - by streaming some meetings we are bringing to life the decisions we take and showing the thought and consideration that goes into making them.
"We certainly opened up this debate to an audience far greater than we have ever seen at any previous council meeting and we have received much positive feedback."
Mr Thornber said half of the £205,000 was from an underspend by members on their own budgets.