Southampton biomass plant site 'moved 125 metres'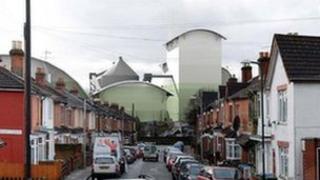 The developer of a proposed £300m biomass power station in Southampton has revised the site for the plant.
Helius Energy wants to build the 100 megawatt wood-fired plant at the city's Western Docks.
The company said, after discussions with Associated British Ports, it had secured a new site 125 metres further away from homes.
Residents opposed to the scheme said they were "massively disappointed" with the revised plans.
A 12-week consultation is expected to begin in May with a planning application due in autumn.
Helius said it was also amending the layout and shape of the building design before submitting its application to the Planning Inspectorate.
'Totally unacceptable'
The original plans included a 100m (330ft) chimney and would have been located 125m (410ft) from homes.
Resident Steven Galton, of the No Southampton Biomass group, said: "Despite moving the siting back approximately 125 metres, this will still leave the development within 250 metres of the nearest homes - this is a totally unacceptable distance for a large scale development to be."
A first consultation closed in April when No Southampton Biomass handed 150 objection letters and a 3,602-signature petition to Helius and the city council.
Residents in the nearby Freemantle and Millbrook areas also held protests against the plant.