Unions cancel protest at Southampton's Titanic museum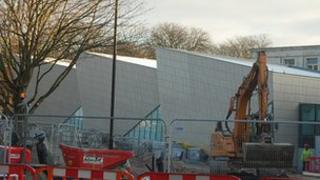 Trade unions have cancelled a protest at the opening of a museum dedicated to Southampton's maritime history.
The march to the SeaCity Museum had been planned for 10 April as part of an ongoing council workers' pay dispute.
However Unite and Unison leaders said they had not realised 500 children would be parading to mark the RMS Titanic centenary.
Council leader Royston Smith said scrapping the protest was "great news" and the "right decision".
He said: "As the city remembers and pays tribute to all those Southampton people who died on board the Titanic, and with hundreds of schoolchildren parading through the city, it would have been completely inappropriate for a protest to take place.
"It is within the interest of everyone in the city, including our staff, for the SeaCity Museum opening to be a success."
A joint union statement said while their action short of striking is continuing, they did not want to cause the children distress or spoil an activity they had been planning for some time.
The new mueum houses a permanent Titanic exhibition.
The unions called it a "vanity project" whose construction had been funded by cuts to workers' wages.
Unison branch secretary Mike Tucker said: "While cutting back services for the elderly, the disabled and young people, the council is spending millions on a museum which is being opened on 10 April purely to enhance the Conservatives' election campaign."
Southampton council workers, including refuse collectors, parking enforcement officers, toll bridge collectors and social care staff, took strike action during 2011 over new pay contracts introduced as part of the authority's funding cuts.
The mueum houses a permanent Titanic exhibition.