HMS Illustrious returns home after collision in Norway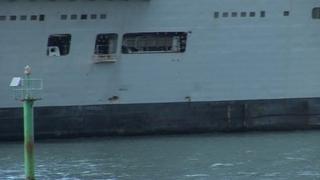 A Royal Navy helicopter carrier has returned to Portsmouth to be repaired after its hull was punctured in a collision with a tug during training.
HMS Illustrious was taking part in exercises with other Nato warships off Norway when the accident happened.
It took place on 9 March in the port of Harstad, leading to damage above the waterline.
A spokesman said the two small holes had not affected the vessel's seaworthiness or safety.
No-one was injured in the incident.
The 22,000-tonne vessel arrived in its home port earlier after taking part in half of its eight-week deployment in the Arctic Circle.
The Royal Navy spokesman said initial repairs were carried out by the ship's engineers and the ship could have carried on participating in Exercise Cold Response.
However it was decided to return the ship to Portsmouth to complete the repairs to ensure its future programme can be achieved, he explained.
HMS Illustrious was laid down by Swan Hunter shipbuilders in Wallsend in 1976, before going into service in June 1981.
It was recently converted from an aircraft carrier to a helicopter carrier in a £40m refit.