Cold-case sexual crime team that snared David Bryant axed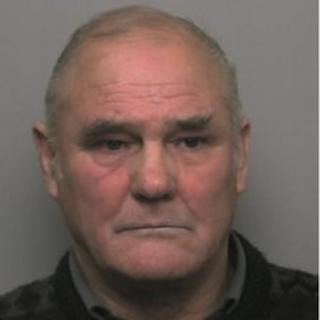 The cold case team responsible for finally bringing paedophile David Bryant to justice with 30-year-old DNA evidence has been disbanded.
Bryant, 65, kidnapped four girls, aged between two and five, in the 1980s and 1990s, in Hampshire and Newcastle.
A breakthrough in forensic technology enabled police to match Bryant to DNA found on his first victim, in 1982.
Hampshire police said Operation Galaxy, a unit dedicated to solving historical sex crimes, was only a pilot scheme.
Bryant was jailed for 16 years for the offences on Tuesday.
He had been caught after the Galaxy team began a review in 2010 of all of the Hampshire force's unsolved serious sexual offences, going back 30 years, using advances in DNA technologies which were unavailable to the original investigation.
The unit was able to match DNA found on Bryant's first victim, who was attacked in Southampton in 1982, to that found on a victim in an attack in Northumbria 13 years later.
Eight convictions
It was later established there were four crime scenes where the same DNA had been found.
When one of Bryant's relatives was arrested on an unrelated matter, the Galaxy team was alerted by Northumberland Police that his DNA was a similar match.
It was previously reported that the unit, which has resulted in a total of eight convictions, faced an uncertain future amid financial problems in the government's Forensic Science Service (FSS).
But Hampshire police claim it was not a case of balancing the books as Operation Galaxy, set up in 2010, was only ever a pilot scheme.
Det Con Insp Chris Fitchet, of Hampshire police's major investigation team, hailed Galaxy as a success and said its objective had been achieved.
He said: "The original objective was to review some 3,000 sexual assault cases spanning 30 years.
"That objective was essentially achieved. There are still investigations arising from the review that are ongoing and they will continue to a logical conclusion.
"We have reviewed all of our serious undetected sexual offences and we have convicted some eight offenders who might not have been convicted and we've identified a number of new profiles that have been loaded on the DNA database and there are a number of partial profiles which we may be able to use later on."
Mr Fitchet said officers who had worked on the unit would continue to carry a caseload where offences have been identified and service providers will take over from the FSS.
He added: "We have a major investigation team and we do, from time to time, work on a cold case review. There are techniques that exist and we will continue to use in investigation of serious crime."
The Galaxy team's successes since it was set up included the conviction of rapist Philip Andrew who attacked Sharon McKerracher in Portsmouth in 1982.
Ms McKerracher, who previously waived her right to anonymity, described the decision to discontinue Galaxy as "atrocious".
Former police minister John Denham, who is also the Labour MP for Southampton, Itchen, accused the force of cutting a "less visible" service.
"The great danger is that we will lose the ability to solve crime now and in the future," he said.
"I, as police minister, blocked moves to close the FSS because I knew the private companies would not be able to invest in and deliver the top quality scientific techniques we need and I think we are now seeing that being proven to be right."
He added: "The police are being forced to cut their budgets by 20% and understandably there's an emphasis on protecting front-line jobs but behind the scenes there's the resources that go into solving crime from 20 years ago and I do worry that these things will be cut as they're less visible to the public."
In 1994 the FSS pioneered a world first - the ability to identify DNA profiles from old and degraded materials. Scientists could provide a one in 50 million match and this paved the way for the world's first DNA national database a year later.
The database contains almost five million samples and is growing by up to 50,000 new samples every month.