Hampshire charity packs Jubilee biscuit tins for forces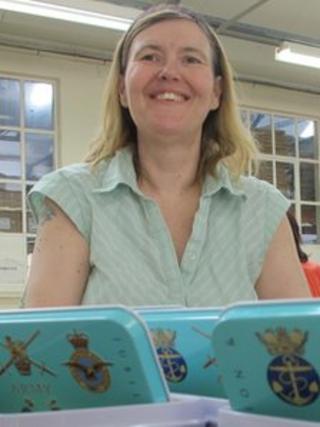 A Hampshire charity is helping send special gifts to the Armed Forces for the Queen's Diamond Jubilee.
Disabled workers from The Enham Trust have packaged more than 22,000 commemorative biscuit tins commissioned by department store Fortnum & Mason.
Tins containing tea and biscuits will be dispatched from its base near Andover to troops in Afghanistan in time for the Jubilee weekend in June.
The Queen was presented with the first United Service tin earlier this month.
The Enham Trust supports 4,500 disabled adults from central and southern England with care, training and work guidance.
The charity's packaging plant at Enham Alamein has already sent off 15,000 tins. The final 7,000 are on their way this week.
Wounded servicemen
The Enham Trust was founded in 1919 to rehabilitate servicemen wounded in World War I.
Enham Packaging and Storage, (EPAS), is one of Enham's social enterprises.
Sue Carrington, who has worked at EPAS for more than 25 years, said the employees were proud to be helping provide gifts for the troops.
"They do so much for us, it's nice to be able to do something good in return," she said.
Fortnum & Mason supplied food delicacies to soldiers during the Crimean War.
The origin of sending tinned gifts to troops began with Queen Victoria, who sent chocolate at Christmas to the men fighting in South Africa.
In 1914 Princess Mary, headed a fund to send tins of chocolate and tobacco to men fighting on the Western Front.