'Health and safety' cancels Palm Sunday donkey parade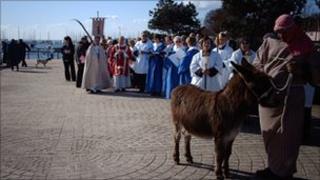 A Palm Sunday procession through a Hampshire village has been cancelled over health and safety concerns.
A donkey has led the Easter festival tradition through Hamble, near Southampton, for more than 10 years.
But Eastleigh Borough Council received objections from police about traffic management, signage, road safety, risk assessment and insurance.
The Parochial Church Council of St Andrew's said it had taken the decision to cancel the procession.
The borough council said it had also been advised that a road closure would be necessary to protect pedestrians and other road users.
The organisers of the parade said traffic was only held up for a short time behind the procession, which lasts less than an hour and is popular with children.
Helen Griffiths, vice-chairman of the Parochial Church Council of St Andrew's, said the decision to cancel was regrettable.
She said: "We hire a donkey and his licensed handler from a reputable mobile farm, which has the necessary public liability insurance and provides animals for film and television.
"The traffic may be delayed for a few minutes as we walk down the High Street, but we are careful to have designated people at the front and back of the procession to warn cars and explain to drivers what is happening.
"They never seem surprised as Hamble High Street is often temporarily blocked by delivery vehicles."