Titanic: The Southampton road which lost eight residents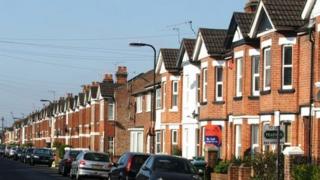 Malmesbury Road in Southampton has not changed much in the past 100 years.
About 140 terraced family homes still line the street on both sides in this residential part of Shirley.
Back in April 1912, eight men from here had secured jobs as crew on White Star Line's newest ship RMS Titanic. None of them would survive the disaster.
To mark the centenary of the sinking on 15 April 1912, BBC Radio Solent has been back to Malmesbury Road to meet some of the street's current residents in order to reveal the fascinating Titanic history within their homes.
1912: James Addison Toshack - 2012: Dr Sonya James
103 Malmesbury Road
James Addison Toshack was a first class saloon steward on board Titanic.
He was 31 years old and like many of the crew he was not from Southampton - he was from Edinburgh, Scotland - but in 1912 he was living at 103 Malmesbury Road with his wife Phoebe.
For the voyage Mr Toshack's duties were to wait on passengers during mealtimes, and to reset the saloon in preparation for meals.
His wages for this work were £3.15s.0d.
His body was never found.
Today, Dr Sonya James lives in the same terraced house with her family.
She is originally from Belfast and grew up with stories about Titanic.
She said: "It's always been quite well known in our family because my granny used to always say she went to school with a survivor of the Titanic.
"It's strange having this connection, because I knew about it so much from before. I phoned my parents and said: 'Did you know somebody who worked on the Titanic lived here?'
"It's just unfortunate it was not a survivor and somebody who lost their life."
Records show that after her husband's death, Mrs Toshack moved back home to West Derby, near Liverpool and remarried.
1912: William James Revell - 2012: Tracey Newman
102 Malmesbury Road
William James Revell was born in 1880 in Liverpool, Lancashire.
By the time he signed onto Titanic in 1912 as a steward in the first class saloon he was living at 102 Malmesbury Road, Southampton, with his new wife, Blanche Louisa and their baby son.
Little Jack Louis Francis had been born in their house on 21 July 1911 and was nine months old when he lost his father.
Mr Revell's duties on board were to ensure that the saloon was secure when not in use, and to patrol the first class areas of the ship. He was also paid £3.15s.0d per month.
Mr Revell had transferred to the Titanic from the Olympic where he had already survived a collision between the ship and naval cruiser, HMS Hawke, in the Solent in September 1911.
But he did not survive the sinking of Titanic and his body was never found.
His wife's brother Ernest Owen Abbott, also a steward, died in the disaster too.
Nurse Tracey Newman now lives in the house of Mr Revell and his family.
She said: "It's quite a shocking story really.
"Things have changed a lot, in this street in particular.
"In those days there would have been more families, who would have, I expect, when people died on the Titanic, would have come together.
"If anything in this street happened [today] nobody really knows each other."
1912: Herbert George Hensford- 2012: Eileen Babbage
132 Malmesbury Road
Herbert George Hensford was born in Hampshire on 24 April 1885, yet he gave his age as 29 years old when he signed on for the Titanic.
Just weeks earlier he had married Alice Louise Beck, who lived at 132 Malmesbury Road with her parents and younger brother, and moved in with them.
He joined the Titanic at 06:00 on 10 April 1912 as an assistant butcher, expecting to earn monthly wages of £4.10s.0d.
Having joined the Army in 1904 at the age of 19, he was in the reserves but still a serving soldier when he went down with the Titanic.
White Star Line sent written confirmation of his death to the Army following the disaster, quoting his service number 21916.
His body was never recovered.
Eileen Babbage, aged 87, now lives at number 132.
She grew up in Southampton and said her mother remembered seeing groups of people dressed in black, mourning those who had died in the disaster, walking down to and gathering outside the White Star Line's offices by the Southwestern Hotel.
"It must have been a miserable sight, to see them all in black and queuing up like that at such a time," she said.
"It must have been very sad, I imagine. It was a colossal amount [of people who lost their lives]."
The other five men from Malmesbury Road who died were: John Smillie, number 16; Albert White, number 51; Edwin Best, number 89; Edward Stroud, number 120 and Alfred Allsop, number 134.
The stories of Malmesbury Road's Titanic crew were documented by Dave Fredericks, a descendant of a crew member who survived the disaster, trimmer Walter Fredericks.
The 2012 visits to Malmesbury Road by BBC Radio Solent reporter Tristan Pascoe and Southampton tour guide Dave Adcock will feature on the Julian Clegg Breakfast Show from 10 to 13 April.