Isle of Wight hospital helipad gets planning permission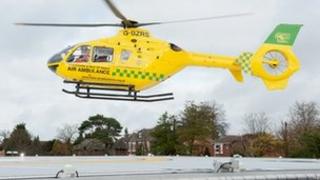 A new helipad for St Mary's Hospital on the Isle of Wight has received planning permission.
It will enable patients with life threatening injuries to be flown from the hospital to the trauma centre at University Hospital Southampton.
At present patients have to be transferred by ambulance to Seaclose in Newport before the patient can be airlifted off the Island.
St Mary's Hospital is now one of seven designated trauma units.
'Transfer easier'
This means the hospital will stabilise some patients prior to transfer to a major trauma centre, or treat less serious injuries.
The hospital trust said the new helipad would mean people with life-threatening injuries, such as those associated with road traffic collisions, severe assaults, gun and knife wounds and serious falls, were more likely to survive and their risk of serious disability would be reduced.
Isle of Wight NHS Trust Medical Director Dr Mark Pugh said: "This will most commonly be used for patients who are brought to St Mary's to be stabilised before being airlifted.
"We already fly trauma patients to Southampton so the addition of the helipad at St Mary's will make the transfer easier for patients and staff."