Sinking of Titanic remembered across England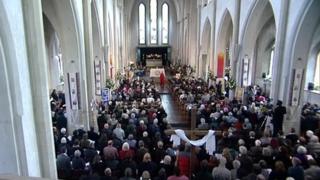 The city from which Titanic departed on its ill-fated voyage is marking the 100th anniversary of the sinking.
The ship set sail from Southampton on 10 April, 1912, but sank at 06:47 (UK time) five days later with the loss of more than 1,500 lives.
Commemorations have been held across the city, with a special service at St Mary's Church.
Remembrance events were held across England, including in Captain Edward Smith's home city of Stoke-on-Trent.
A plaque has been unveiled in the Staffordshire street where he was born, while a flare was let off next to his statue in Lichfield on Saturday night.
Titanic's chief wireless officer Jack Philips, who has been credited with helping save hundreds of lives, has been remembered in a service in his hometown of Godalming in Surrey.
In Maryport, Cumbria, the birthplace of the founder of the White Star Line Thomas Henry Ismay, a service of remembrance was also held.
'Very moving'
In Liverpool, where the ship was registered and was home to many of its crew members, events were being held at the Merseyside Maritime Museum.
A three-day Sea Odyssey street theatre event marking the disaster starts in the city on 20 April.
In Southampton, the Reverend Dr Julian Davies led a service at St Mary's Church where the Bishop of Southampton, the Right Reverend Jonathan Frost, also gave a blessing.
He said: "It's been wonderful. We've had children involved, all with a link to those who lost their lives, family-links.
"And then we've had those who've come with a story to tell, and a story perhaps to offer and to lay down - something in their family that they've held for years.
"This afternoon at the door a number of people were speaking about it, saying: 'Well, my grandfather went down with the Titanic'.
"It was very moving."
The Bishop of New York, the Right Reverend Mark Sisk, had also be
en invited to give an address at the service, which included readings and music from the Salvation Army Band and the City of Southampton Orchestra.
Bishop Sisk said: "It struck New York differently, because Southampton had a huge chunk of its population die but that was not New York's experience.
"It had a number of prominent people die and many of the survivors came and stayed. Our next mayor may very well be a descendant of a survivor.
"The level of interest in New York has been just stunning. I'm very honoured to be invited to preach.
"I did not fully grasp, until I came, the percentage of the people from this city that were on that ship."
Mary South, whose grandfather was a steward on board, said: "When I was about eight or nine I asked my father why I didn't have a grandfather from his side of the family and he said he died on a big ship - and that was that.
"My grandmother went into what can only be described nowadays as a deep depression, they called it a decline then, and it was really two years before she came out of it.
'History forever'
"There's part of me that says I think [the events surrounding the anniversary] have got a little bit out of hand, slightly maudlin, but there's also a part of me that says it is important to remember, not only Titanic, but all the hundreds of seaman that have been lost over the years."
Jean Legg, whose father Sidney was a trainee steward on board and survived, said: "It's been a very mixed emotional week - the celebration on Tuesday [the day Titanic left Southampton in 1912] with the hopes and dreams of the people on board and today the commemorations.
"[It's an event] I think will go down in history forever."
Wreaths were also laid at Sir Arthur Rostron's grave in West End, Eastleigh, Hampshire.
The captain of the Carpathia was hailed a hero after changing course to go to the aid of the stricken ship and pick up survivors.
On Tuesday, descendants of some of those who died threw wreaths from the Southampton dock where the ship departed a century earlier.
A minute's silence was also observed in the city, which had been home to more than 500 of the crew who died.
The city has more memorials to the disaster than anywhere else in the world.
Dave Hill, from the British Titanic Society, added: "I think we should remember the people and the various places in the UK and the world that have a link with the Titanic.
"I think the interest will go on generation after generation, it's in our psyche."