Lord Kitchener World War I casualty letter sold for £687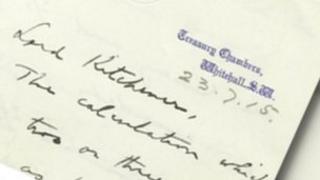 A letter written to World War I Secretary of State for War, Lord Kitchener, has been sold in Oxford.
Sent by Chancellor of the Exchequer Reginald McKenna in 1915, it discusses the numbers of troops needed to replace casualties on the Western Front.
His calculations show the levels of "irrecoverable wastage" before conscription was introduced in 1916.
The letter sold for £687 at Bonhams auctioneers, more than the expected price of £400.